Below is a very small sample of feedback from clients who booked The Talent Party Band and wanted to say thank you. A full list can be available on request and don't forget to check out the latest on
The Talent's Facebook 
Hi Craig, Just wanted to thank you again for such an amazing night. You guys honestly blew us away and totally exceeded our expectations. Every time we talk about the wedding, we always mention how great your performance was. It was simply perfect. We truly, could not have imagined it any better. We are so grateful to have found you guys and so grateful you imagined exactly the vibe we had in our minds and were able to deliver so flawlessly. We can't thank you enough. And, as we've been racking our brains for when we can hire you again, we were certainly be in touch!!! All the best, Lauren and Scott - Wedding Reception, Lake Como (JUNE 2019)
Craig, we all can't thank you enough for the truly incredible performance Saturday. From the elegantly performed music at the villa to the energy you created at Paolino with great performances and music that kept our guests on the dance floor we couldn't have asked for more. I can't tell you how many of our friends from New York said they had ever heard anything better. And our Capresse friends told us that you were the best band the island has ever seen. Since I found and selected you I'm sure you can imagine the relief I felt 15 seconds into your first song. Finally I also want to thank you for your responsiveness in the time leading up the wedding as we discussed song selection and the complex logistics of Capri. From me and Susan and Melissa and Mack, grazie mille. GREG DANILOW - Wedding Reception, Capri (June 2019)
Please pass on our huge thanks for the party band for Charlotte and Charlie's wedding last Saturday. They were totally amazing,we could not have wished for more. They were brilliant coming and setting up earlier in the day, that made so much difference. The music was totally perfect for all the different age groups and the dance floor was alive all evening, the party really was magical they created so much atmosphere and really got everyone dancing together. They were all utterly brilliant, many many thanks to all. with best wishes Tory – Wedding Band (Jan 2019)
Hi Craig Just a note of thanks to you and your band for making our Christmas party so special. I have had nothing but praise for The Talent from the staff and directors here and I would certainly rebook for other events and recommend you to friends and colleagues. Have a good weekend. Kind regards. Linda - Corporate Event for Wilkinson Eyre (Dec 2019)
Hi Craig, I just wanted to say a huge thank you to you and the rest of the band for last night – you were amazing and everyone had a really great time. Thanks so much and 'break a leg' for all the gigs you have over the festive period, hope you all have a lovely Christmas and a fantastic New Year. Very best wishes, Joy Warner - Corporate Event, Cambridge (Dec 2018)
Dear Karen, Another super evening with The Talent and many comments from the party goers about how good they were. Shame about the power cut issue but all ended well I hope the guys enjoyed themselves and that they were looked after OK in the pub. Kind regards and thanks Jane Barling – Thurlow Hunt Ball (Dec 2018)
Just wanted to say a huge thank you for an amazing night on Friday. You guys really did play an integral part of making the night such a great success, and we're really pleased you agreed to come along and be a part of the Ball's success for a second year. Hope everything worked well for you, and you felt looked after. Fantastic to see so many people on the dance floor throughout the night and until 1am. Hope you felt it a good vibe to you. Everyone was very complimentary of you and the band. Thanks again. Best wishes Paul – The Manchester Ball 2015 (Nov 2017)
Hi Karen, I hope you are well. Sorry it has taken me so long to send you an email. The wedding day and evening was amazing and the band were one of our highlights. They were faultless – everyone was dancing all night and our guests still talk about them. Two of our friends have asked for the contact details for their parties. Please pass on my thanks to each and every one of them. Kind regards, Leanne  - Wedding Reception (Oct 2017)
Hi Karen, You probably get this from every couple so I hope we can do it justice. Thank you so so much for everything. The party band did such an amazing job. We had just the most special day. We've still not come back down to earth. We could not have been happier with all the music, the sound, the way the band entertained, that they all looked like they were really enjoying it. Everyone said the band was amazing. If you need us to, we will be more than happy to offer reviews to other couples. We will be back from honeymoon on 11 September. Thank you again. Jason & Michelle – Jewish Wedding Band (August 2017)
Hi Craig, We have just returned home to Guernsey after the wedding of our daughter Vicki to Mike on Saturday 9th August at Hawley House. We just wanted to say what an amazing wedding band set you put together everyone without exception said you were the best wedding band they had heard for many years. so a big "thank you" to all 4 of the band. We will certainly be recommending you to friends and family for future events Kind regards Caroline Grahame Vicki and Mike – Wedding Band (August 2017)
Dear Baggy and Karen Just a quick note to say thank you so very much for all your help for Justin's 40th birthday on Saturday. The lights looked fantastic and the live music was perfect. Kind regards Lucy – Party Band for 40th birthday (June 2017)
Hello Karen, Just a short message because Chloe & I have just got to Hong Kong on our honeymoon. We would like to thank The Talent Wedding Band for Saturday night at our wedding. They were absolutely amazing and everybody thought they was brilliant. I am so pleased I booked them after seeing them play my friends wedding a couple of years back. I cannot speak highly enough of them and they more than contributed to what was a perfect day. We will be recommending them whenever we can, and we shall also send you a letter of thanks on our return to the uk. Thank you so much Richard & Chloe – Wedding Band (June 2017)
Hi The Talent, Our friends were genuinely impressed with the music and how nice the band boys were. I suspect that I will be asked for your details in the future. Thanks for helping me throughout the entire process. Now I'd like a cleaning fairy please! Tara – Party Band for Hire (June 2017)
The Talent wedding band were great, everyone danced the night away. Lots of party guests have commented on how nice the chaps were, as well as the music being spot on. Everyone I dealt with throughout the whole process was friendly, helpful and efficient. Thank you. Wedding Band (May 2017)
To All our Supporters, We want to write to say a huge thank you to all our supporters of The Charity May Ball 2014. We had a fantastic evening with 330 people attending. The raffle went extremely well and raised over £3000 and the auction was astonishing and raised £17000. In total the evening made £26000 and we will be handing over the cheque to CRUK very shortly. We cannot thank you enough for all your help and support, without which the evening would not have been possible. Best wishes Susie, Laura, Robert and Jill – Party Band for Charity Ball (May 2017)
Hi. Thank you so much for playing at our wedding reception at the Fennes last night. You were amazing. So many people said how good you were and loved the range of music you played. Smells like Billie Jean being a highlight. Thank you for being the perfect end to our perfect day! Love Mr and Mrs Sizeland – Wedding Band (April 2017)
Hi Karen Just wanted to let you know how great Decades Party band were on Saturday evening. They really made our party memorable and we had so many guests telling us so on the evening. In fact, my husband was at the golf club today and someone who wasn't even at the party said that he had heard the band were amazing! Thanks for organising everything. Kind regards Arabella  - Party Band for Anniversary (March 2017)
Afternoon, I just wanted to say a massive thank you to the Talent for Saturday night they was amazing and definitely one of my highlights for the day!! Regards Gemma – Wedding Band (March 2017)
Hi Karen Please pass on my sincere thanks to the live band, they were absolutely sensational and the dance floor was never empty. Kind regards Melanie – Wedding Band (February 2017)
Dear Karen, I wondered if you could pass on a message to The Talent Party Band for us following our party on 1st February? We just wanted to say an enormous thank you to them – we had an absolutely amazing evening which was due in a large part to the fantastic music they played for us, numerous people said to us during the night and the following day that it was the best party they had been to in years and people are still sending me messages a week later saying that they loved the music and the dancing. Several people who haven't been on a dance floor for many years couldn't stop themselves this time, which was brilliant! The band were really accommodating right from the start, which was difficult for them when they had to deal with an over-enthusiastic noise limiter in the hall but they took it in their stride and gave the most fantastic performance. I really hope we'll have an opportunity to hear them play again in the future and we will definitely be recommending them to friends. Many thanks again for a brilliant evening. With best regards, Rachael and Ben Whitaker – Wedding Band (February 2017)
I just wanted to say how good the band were, everyone thought that were great fun and I would definitely recommend them to others THANK YOU! Michelle Travers – Party Band, 50th Birthday (February 2017)
The Talent and The Gifted entertained our guests in the Vaults and the Main Room of the Old Billingsgate Market for the December run this Xmas. The guys had the dancefloor packed every night and the crew were a pleasure to work with Richard Joy – Party Band – Old Billingsgate (January 2017)
Last night was a great success and The Talent were excellent.  Everyone loved the music and were dancing all night. Please pass on my thanks to the party band. Corporate client via Joogleberry Acts – Party Band (January 2017)
Hi Karen Please pass on our thanks to The Talent Party Band, they were brilliant and we had a wonderful time. Lots of people mentioned how good they thought the band were and not only good but said it looked as though they were really enjoying themselves as well which adds to the party atmosphere. As I 'm sure the guys will agree Blackmore knows how to party, and it really helps to have the best music. Thanks form the Holbrook family and the rest of the guests Best wishes Colin, Janice & Lauren – Party Band for Event (December 2016)
Bags, hi We'd just like to say a belated thank you for your performance at our wedding. It was an awesome set list and all of our guests commented on how brilliant you guys were. We loved our first dance to These Arms of Mine and also the Daft Punk number Get Lucky was absolutely fantastic! Thanks again. Very best Kevin Chung – Wedding Reception, Acoustic Duo (December 2016)
Hi Baggy, It was a pleasure working with you and the band on Saturday at Amy & Robbie's wedding, thank you so much for your great performance and being so flexible with the performance times after we ran over. Both of them were really happy with how the day went. Best wishes Andri – Wedding Planner  (December 2016)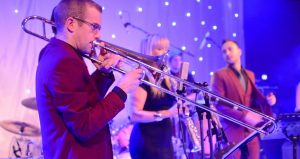 Craig & The Talent band Both Alexis and I would like to say a huge thank you for the superb job you did at our Wedding. You were a pleasure to work with before the event and your performance on the night was absolutely brilliant! Thank you so much for taking the time to learn the words for the Israeli dancing for us also - we really appreciated that! Your ability to read the crowd was great, you got everybody singing and the wide range of music you play meant there was something for everyone. My particular favourite was the unbelievable Billie Jean/Smells Like Teen-Spirit combo you played towards the end! Overall we had an amazing time and our Wedding would not have been the same without The Talent Party Band. Thank you so much!
Dan & Alexis – Jewish Wedding Band (December 2016)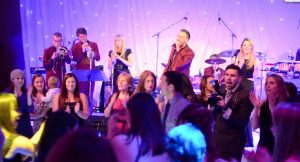 Hi Barrie, Chloe and I just wanted to say thank you very much to you and to the band for doing such an excellent job at our wedding last month. The music played and the style of the set was exactly how we wanted it to be. We thought the quality of the music was J ewish Wedding Band 1really excellent – many of our friends remarked on what a pleasure it was actually to be able to hear the words as well as the music. The guys got it 100% right. And thank you in particular for arriving well in advance as you did. The transition from band to DJ was seamless and I know that would not have been the case had you not bothered to arrive early and set up with the DJ ahead of time. We really, really appreciate what you and the band did for us – please pass my thanks on to the team. Again, thank you very much, and have a great summer. All the best,
Robert Devon – Jewish Wedding Band (November 2016)
Dear Karen, Just a quick note to say thank you very much for your extremely efficient and helpful provision of the wedding band for the party.  They were absolutely brilliant, in spite of the fact that it was a lovely warm evening and people could congregate outside, the music was so good the dance floor was soon packed and we had an amazing time.  Please pass my thanks on to them (and sorry about the girl who tried to sing!!) their singing/playing was better than on the promotional DVD and I would recommend them every time. Thank you again. Very best wishes Sarah & Marcus – Wedding Band (October 2016)
Hi Baggy, Quick note to say thank you. You and the band were fantastic. We had a great day/night. We did not stop dancing and the floor was full at all times. Cracking repertoire. Very impressed!! I'm sure I was pushing for more, but quite rightly ended with a bang!! Would highly recommend you to others. Best of luck for the future Regards, Darren Burns – Wedding Band (October 2016)
Dear Talent We hired The Talent 4 piece Wedding Band for our wedding in East Sussex in August. They were absolutely great and made our wedding extra special. Their choice of songs was pitched perfectly to get everyone dancing regardless of age and the dance floor was packed all night. They were completely professional in all respects from handling drunken requests for songs from guests and even when we ended up running horrifically late the band were completely understanding and did everything they could to make things work out. I can recommend The Talent without hesitation as the perfect hassle free Wedding Band. Sarah Berber - Wedding Band (October 2016)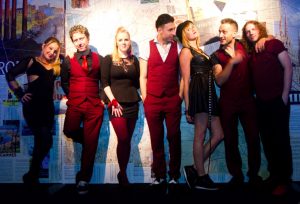 Dear Talent, I have been meaning to write to you for some time now but there is always something or someone (two year old son) that gets in the way or needs my attention. I just wanted to say a rather belated "Thank You" for all of your help and assistance with regards to my wedding this year. I Billingsgate 2cannot emphasize how much we enjoyed the band, The Talent wedding band gave an excellent performance and went down a storm. I thanked one of the performers on the night but wanted to make sure that 'the band' received recognition of our appreciation and that of our guests. I remember that at one point we took over the singing of one of the songs at which point the lead singer just let us get on with it, very amusing. I know that they undoubtedly perform at many weddings through out the year and cannot recall when and for whom they perform for but they certainly will be and are remembered by ourselves and our guests. As we meet up with our friends and family since the wedding they still comment on how great the wedding band were. I would not hesitate in recommending your company or the party band for any occasion. I experienced no problems and you were able to provide me with help and guidance to my, probably many, questions. The band were on time, smart, polite, and of course all excellent musicians to which are a credit to you and made our wedding reception such a brilliant live party band. Thanks again to you all and kindest regards,
Karen Baxter – Wedding Band (August 2016)
The Talent are a fantastic, friendly group of guys that very much played to the crowd and got everyone dancing straight from the word go. Their catalogue of music is expansive and they give you the option to choose up to 20 of your favourite songs from this list that you definitely want to be played so it's great to have those songs to look forward to. Many guests said they were the best wedding band they had heard and since the wedding we have had a lot of requests to pass on their details. Book. Them. Now. Anthony George - Wedding Band (August 2016)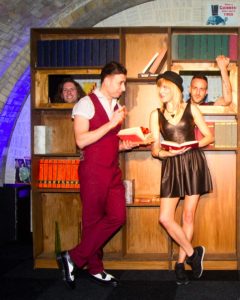 Dear Barrie (Baggy), A huge 'Thank You' to you and the party band for your wonderful performances on Saturday at my husband's 70th birthday party. EVERYBODY has said to us how fabulous you all were, and what a terrific atmosphere of sheer exuberance and happiness youBillingsgate 43 added to the whole evening and, as you could see, we all just didn't want you to stop. We and our geriatric friends danced and danced and no doubt everyone was staggering about the next day with sore joints and aching backs. . . A very small price to pay for such enjoyment. You were all great! Such lovely and helpful people, with real 'Talent', and I really can't thank you enough. My personal thanks to you, in particular, for helping me with the intricacies of the radio mike, which I hadn't used for years and years! I am sure we will see you again in the West Country before long, as so many people have asked me for your contact details. Thank you all again – so much.
Diana Chedgy - 70th Birthday - Party Band (July 2016)
Karen and The Talent, I just wanted to drop you a note to say thanks, and feedback how wonderful the boys-girls performed at our Big Day! The balance of music was just perfect for all to get up and shake a leg (even my 90 year old grandfather!), and the first dance made even the hardest hearts shed a tear . Thanks for making everything go so smoothly, and for your excellent organisation beforehand. Helps a great deal. Best Regards, Nicola and Roy - Wedding Band for Hire (June 2016)
Hiya, Just got back from Italy 😀 I cant thank you enough for the amazing time we and everyone else had at the wedding 😀 but it was AMAZING!! so a MASSIVE THANKYOU. Everyone has said how fantastic the day and the music was, so THANKYOU!! Cant wait to book you again!!! Lots of love, Vyv Greenall - Wedding Band (June 2016)
Hi Baggy, Please can you pass on my thanks to everyone in the band who did a great job on Saturday night, the dance floor stayed packed all evening! I look forward to working together again soon. Best wishes, Melanie Helen - Cranberry Blue Weddings - Pinewood Studios - Wedding Band (April 2016)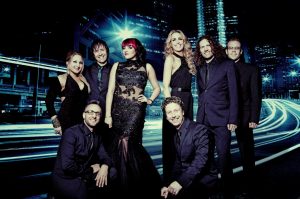 Dear Karen,The Talent Main berkshire Image Please pass on our thanks to the band, who really made our wedding day on Friday! I don't think i stopped dancing all evening and my feet are paying the price now! We had such a fantastic day and we are so grateful to all the members of the band for entertaining everyone and making it such a great evening! Thanks again and very best wishes
Suzanne & Olly - Wedding Band (April 2016)
Hi Barrie, I just wanted to drop you a line to say a big thank you to the band, who were excellent on Saturday. I have received lots of complimentary comments from the staff saying how good the band was. Please pass on my thanks to The Talent. Absolutely excellent!! I definitely know where to come, if looking for a band again. Thank you for all your help. Dawn - Corporate Party Band - Exel Group Spring Ball (April 2016)
Dear Barrie, We just wanted to e-mail you to say thank you to the party band. They were brilliant and had everyone up dancing all night. We have had so many compliments about them. It truly made our evening special and one we will not forget. Once again thank you! Richard and Amy - Wedding Band (April 2016)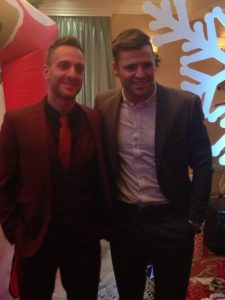 Hi Baggy OMG....you were all soooo awesome! And a fantastic surprise to have the sax players too! You rocked the party and I for one enjoyed every second of it! I do believe I managed a little head banging frenzie at some point...but that was all down to you lol. Every number you played had me moving and you certainly kept to your word and got everyone up on the dance floor! Everyone who was invited has the link to your website, so hopefully I'll get invited to some more parties with the Talent party band playing. My friend who had seen you before years ago wanted to do it all again on the Sunday...it's her 50th next March so I think I'll try and get her family to organise a party for her and book you in. I don't suppose you do any public events still? Would love to be a little more sober and actually enjoy the performance next time. My feet are still very sore...but soooo worth the blisters!! Again...thankyou very, very much....and please pass on my overwhelming gratitude to the rest of the party band....100% pure talent! Kindest regards
Alison. X - Party Band for Hire (March 2016)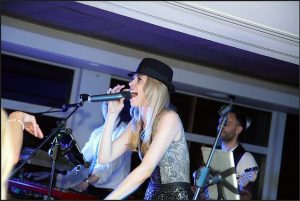 Hi We have now returned from our honeymoon and both just wanted to say a big thank you for playing at our wedding on 23rd December! We had an amazing day and you playing in the evening created a fantastic evening. We couldn't believe how many people were dancing all night - you really know how to get a party started! We have had so many people comment on how good the wedding band were, so much so that I think you will shortly be hearing from my sister who is getting married in November! Thanks again
Gemma & Jason - Wedding Band (December 2015)
Dear Barrie and the band James and I just wanted to say a huge thank you for the amazing performance you did on Saturday night. We had the most amazing time and everyone commented on how fantastic you all were. Many of our guests haven't been on the dance floor for a number of years yet you managed to get them all up and dancing- we loved it! Thank you also for being so understanding about the "requirements" of the Walled Garden. We were both so disappointed that they continued to be so demanding all through the night, but were incredibly grateful for your professionalism dealing with them. You managed to defuse the situation and ensured that we all had a fantastic time. I hope you all have a wonderful Christmas and new year and the very best of luck for your wedding next summer. Best wishes Sarah and James - Wedding Band (December 2015)
Hey Thank you all so much for such an amazing night on Saturday. We had such fun. So many people have said it was the best party ever and as many people have asked for your details. You were amazing. Please stay together for 10 years - I want you for my 50th! Many many thanks Rachael Walker - Wedding Band (November 2015)
Hi Barrie I just wanted to write and say thank you to The Talent live band who played at our wedding. They were amazing!!! I can't thank you enough we had such a great night and loved every minute. A really great bunch of guys and exceptional talent!!! Thanks again Paula and Kent - Wedding Band (October 2015)
Hi The Talent! Just wanted to send you a quick email to thank you all for such a fantastic night on Friday the 12th October at Hengrave Hall. Our daughter Faye - (the bride!) - husband Chris, one and all had a fantastic evening and without exception sung (not literally thankfully!) your praises. You just made the night! Please would you pass on to one and all our thanks for such a great night. Rod and Teresa - Wedding Band (October 2015)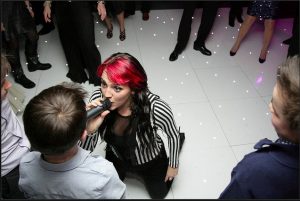 Hiya, Sorry for the slight delay, but got back from the honeymoon and work has gone nuts don't know which way to turn!!! But I just wanted to take 5 mins and say thank you so much, you were all amazing. We have had so many people commenting on how amazing the whole wedding was especially the live music from the band, kinda annoyed you lot took the limelight away from my dress lol!!! But honestly you all were fantastic, even the venue said that they knew when the band was playing as the bar was empty!!!! We had the best day ever. We were both on such a downer the next day, even my bridesmaids were miserable!! I told jay we are going to get divorced next month so i can plan it all over again!!!! His reply was "there is an easier way we can just have a party next summer"!!! Wahoo!!! So i will be in contact again soon to book you guys up. Anyway thank you all so much and apologies cos I think me and jay were a little bit drunk by the end of the night, actually prob if I was realistic more like 5.30pm!!!! Take care and thank you thank you thank you!!!!
Kay Cousins - Wedding Band (September 2015)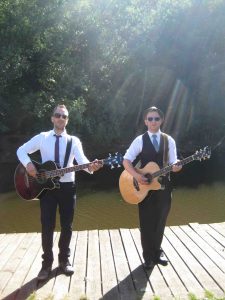 Hi Barrie and Jamie, The Ultimate Acoustic Duo for Hire anywhere in London, Essex, Suffolk Book the UK's Favourite Acoustic Duo in London, Essex and anywhere in the UK We havnt really had the time to relax yet, and proper thank you's are on their way! However, it was really important to us to write a quick thank you to you both for the simply perfect performance you did for us on our wedding day in Domfront, France ! Church, lake and party! We really couldnt have imagined it being more perfect!!! And we have you guys to thank for a lot of that. We really appreciated the "little touches" like in the songs in the Church and our personal song at the lake! And above all! You got everyone on the dance floor from the moment you started and I cannot tell you how many people have said that it was the best party and best live band they have ever been to at a wedding. (we will be finding a way to write this in a review for you guys). Barrie, you have been a massive help! and made the whole experience not only possible, but enjoyable. It was a real pleasure to meet you guys and I will certainly be recommending you guys to people in the future. I hope you managed to get back ok the next day and that you also managed to have a good time yourself after your set was done, But we really appreciated you staying late, as the meal massively over run! And thank you for accomodating my Dad, as this meant a lot to me. Ok , well! Back to reality. (Trine says hi and a massive thank you personally) Really hope we might see you guys at a gig in the future! All the best and thank you again to you both. Jon and Trine Ps. We havn't been through even a fraction of the photos yet, but saw this one and thought you might like one of you guys in action.
Jon & Trine - Wedding Band / Acoustic Duo, France (August 2015)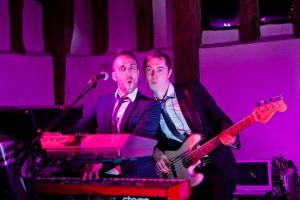 Hi Baggy Sorry for not writing to you sooner, you know what I'm like! On behalf of myself and my wife Lucy, we would just like to thank you Looking for a funky fun function band?and your team for everything that you did to make our big day just that bit more special! We received so many great comments from all our guests about both the band and the lights that you set up. The lights looked absolutely amazing outside the barn and the ones inside really did create the perfect mood. You got the colours spot on, and they created an amazing atmosphere just can't believe what a difference they really did make. As for the band, we are still hearing from our friends and family about how much of a great time they had - the band really did take it to the next level. We absolutely loved hearing you sing for our first dance, and we loved the colour changes for the lighting as well (and the two hearts - we didn't expect that!). I'm sure you could tell how much our guests enjoyed themselves, know that some of them got a bit carried away so apologies about that, but you really did make sure everyone had a big smile on their faces and will definately remember our day for a long time to come! Talking of which, I don't suppose you lot are playing around Essex soon, we would love to come down and have a good night! Quick thank you also to the DJ - proper chuffed that he got Chas and Dave in there, know people all started to eat again outside, but I loved it!! Just to let you know as well, Harvey took some great pictures of the band so I'm sure we will be able to send some to you (we'll ask Harvey first) but sure it will be fine! Anyway, thank you so much for all your hard work, hope you all enjoyed your evening, but just to say such a massive thank you for making our evening so special! Thanks once again, Dan and Lucy
Dan & Lucy - Wedding Band (July 2015)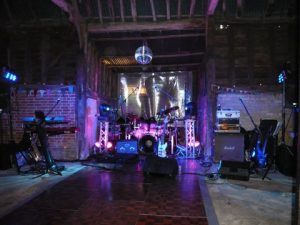 WOW!! What an amazing night! The Talent party band were way beyond our wildest dreams! Thank goodness the other band we tried were busy. You brought our barn to life with your fantastic lighting and gave us 3 truly memorable sets of music that appealed to everyone aged 8 upwards! So many of our guests wrote to us to say how brilliant you were. The whole experience from the first phone call to the pack up at the end of the night was easy. You left us nothing to think about and we were very grateful for that. The only bad comment I have is that you finished too early......we could have danced all night!!! I would highly recommend you and am now saving for a repeat performance in about 10 years time. Thank you, you were ALL brilliant.
Rupert and Sally - Private Party Band (July 2015)
Dear Baggy and team We just wanted to send a belated thank you for an awesome performance on our wedding day! We can't thank you enough for contributing in making our day so truly memorable, you were all fantastic. Our guests commented on how entertaining you all were, the mixture of music that was played and the atmosphere you created. We would recommend you to all 🙂 Hopefully see you again soon! Natalie Travis - Wedding Band for Hire (July 2015)
Dear The Talent, Thank you very much for the stunning performance you conjured up for my wedding in July. We have just returned from honeymoon and one of the first comments our guests are making is how good you guys were. One comment stands out, which was made from a musician friend, he said "...it has been a long time since he has seen or heard a band that good live...they had me mesmerised from start to finish." The entire process from contacting you right through to the day itself has been hassle-free, you've been amazingly professional and most of all, it's been such fun dealing with you. I genuinely will not hesitate to recommend you to anyone and everyone I know. I only wish we could buy your album & come and see your concert! Thank you, thank you thank you! Mr & Mrs Wood - Wedding Band (July 2015)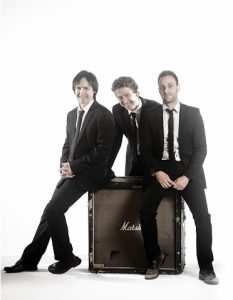 Hi Baggy, We are back from honeymoon now and we just wanted to send an email thanking you and all the boy's so unbelievably much for our wedding at Buxted Park Hotel!! You were incredible!! We loved the atmosphere you created the songs in each set and you kept the dance floor full!! Many of our guests have since asked for your details and we would recommend The Talent wedding band to any one for a wedding, party or any other event! You really were brilliant and you were so easy to work with leading up to the wedding – quick to reply and answered every question we had! Thank you also for learning our first dance for us too! It was perfect and you guy's did it as well as Elton John did!! 🙂 The DJ for monitor music was also great and kept the atmosphere high and going during the set breaks! He was great! Thank you again for everything! 🙂
Amy and Rob - Wedding Band (JUNE 2015)
Hi Baggy, Sorry we haven't been in touch sooner but we wanted to say a big thank you for the great live band you provided on 4th June. We had so much fun and you kept the dance floor busy all night. It was great to see everyone getting up and celebrating together. We just wish the evening could have lasted longer, the whole wedding day zoomed by! Thanks as well for the great service you offer – very efficient and always a prompt response to emails – it made the planning so much easier. You were recommended to us and we will have no hesitations in recommending you to others. Many thanks for all your hard work, Laura Lemmon - Wedding Band (JUNE 2015)
Hi Baggy Me and Clare would like to say a huge thank you for making the night of our wedding an unforgettable night!! You guys really made the atmosphere rock and got everyone dancing including my mum!! All I can say is I'm so so pleased the original band cancelled us otherwise we would never have found you guys who are far more superior!! Thank you once again and I am recommending you to everyone I know. Mark & Claire Church – Wedding Band (MAY 2015)
Hello We just want to say a massive thank you for your amazing performance at our wedding in May. We loved every second of it & all our friends & family have said how brilliant you all were, one friend has already asked me for your details as she really wants you to play at her wedding (she's not even engaged yet!). Thank you so much for completing our wedding day & making it perfect for us. Many Thanks Laura & David – Wedding Band (MAY 2015)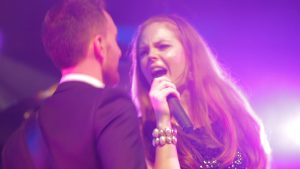 Please can you pass this onto each of the band members who performed at my sister Ruth's wedding last night (Sat 10th Dec 2011) The Talent Party Band are one of the UK's most exciting bands. It was a truly beautiful day and everything just 'worked'. The band was exceptional on all counts, in their friendliness, their conduct (the owners of the house wanted to pass on their thanks too as they were so polite in the background area when getting dressed etc). I've been to a 'lot' of weddings, over 50 in the past 6 years. This party band is right up there, if not topping the lot from sheer entertainment and getting everyone (inc the oldies) onto the dance floor. How my 5 year old nephew lasted until 11.30pm dancing I will never know! Many thanks again for giving Ruth and Dave such a good start to their married life.
Richard - Wedding Band (December 2014)
Baggy, I just wanted to say how AMAZING yesterday was. Thank you so so much for everything. It really was the best day of my life and the music totally made it. So many people said how great you were, and this morning I've recommended you to a friend (Sarah Hunt) who is getting married next summer! Apologies for completely ruining your last song - a friend suggested I chip in on stage and I'm afraid I didn't think it through until I was up there. Very generous of you to humour me... Thanks again and happy christmas! Ruth and Dave - Wedding Band (December 2014)
Well!! We had the most fabulous day and evening with the most fabulous party band we could of hoped for! They were completely amazing, played all our favourite tunes and what a lovely bunch of people. Please send them our love, thanks and all the luck they deserve. Thank you to you aswell for all your help, the whole process with The Talent Events has been a pleasure. Lisa and Xavier - Wedding Band (June 2014)
I just wanted to say a massive thank you for the amazing performance the wedding band put on at our wedding on 21st May! We had so many comments about how fantastic they were and the dance floor was full all night! I didn't have a chance to speak to them myself unfortunately but I would like them to know that everyone had a brilliant night. Rachel - Wedding Band (May 2014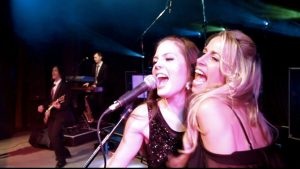 Dear Baggy, we had a really great night....the kids have been raving about it for the last 2 days...best party of the season...apparently. The Band were brilliant, so much fun and even allowed Chris to play a Jimmy Hendrix with them. What a great night. Rich and I will definitely do it again...not sure when although Chris has 'booked' the band for his 18th!! (Dec 2012). The barn was also fantastic, great acoustics, another pleasant surprise. You were also a pleasure to deal with, even David Noble said how much he had enjoyed working alongside you. We will be back. Thanks again.
Philippa Huston - Party Band for 18th Birthday Party, (May 2014)
The Talent are a smashing bunch of guys and their performance was stunning. They are such a talented group of musicians, the lead singer has a superb voice and they were first class performers. They had so many people up on the dancefloor right from the off all the way to the very end. They performed new and old equally well, and their Queen tracks in particular were just off the clock brilliant! We like Rock music and if The Talent put on a concert please let us know - we'd happily buy tickets and take all our mates along. Josh Nunn - Party Band for Hire, Corporate Event (May 2014)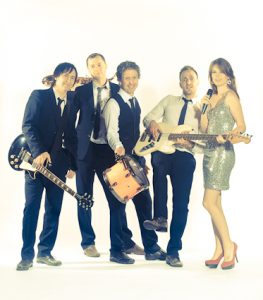 Dear Barrie, The Talent Party Band for Hire Looking for awesome live music for your wedding day or corporate event with over 500 songs & growing book The Talent party Band now Sofia and I are now back from or honeymoon, so I'd like to take this opportunity to say a big ""thank you"" to The Talent party band for their performance at our wedding on 15th May. The performance was very good, and the band were very accommodating to requests, etc. Everyone really enjoyed their music, and the fact that they covered a few genres gave ""something for everyone"". Equally impressive was the fact that they were unassuming and seemed a good bunch of lads. They also allowed me to fulfil a life-long dream of singing ""Don't Look Back in Anger"" with a band, which was amazing for me (although not sure I made the grade!), and that is a memory that will live long with us. Again, thanks very much for helping us enjoy our day so much, and best of luck to you and the band for the future.
Jon and Sofia - Wedding Band (May 2014)
"Hi Barry Sorry for very late e-mail but just want to say how fantastic the Talent were at are wedding at Langly castle on the 6th of may. They were way past are expectations, they were blooming brilliant. All the songs they played were spot on I loved the two greenday numbers and Walk 500 miles by the Proclamers was fantastic when every one was up dancing at the end. So if you could pass this on to the lads and say thanks from us and a big thank you to you for sorting every thing. cheers mate". Steve & Lisa - Wedding Band (May 2014)
"Dear Baggy, We would like to thank The Talent for playing at our wedding at Smeetham Hall Barn on the 2nd April, you completed our perfect to day. The dance floor was full all night and that is exactly what we wanted, however I never expected to be dancing to Nirvana in my wedding dress, but it worked! From the moment we saw you play in Ipswich we instantly knew that we wanted you to play at our wedding and we were not disappointed. Thank you so much again" Erika and Daniel Hudson - Wedding Band (April 2014)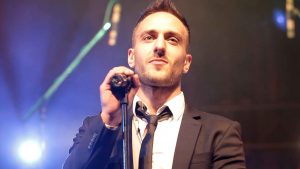 "Hey guys - I just wanted to say a BIG Thank You for playing at our wedding on Monday night at Gaynes Park - the whole set was fantastic and we will highly recommend you and use you again. All our friends and family thought you were fantastic!!! Emma and Andy " "Wow you guys rocked on Saturday 4th July @ Private Function! Had so many people coming up to us through the night saying how great you were" Thank you for your hard work! Kevin Lewis " "Hi Barrie - just wanted to drop you a quick line to say thanks to The Talent for the fantastic live music at our wedding. They were excellent and really made the evening. I guess it's always a bit touch and go when you book a band that you haven't seen play live before, but honestly, we thought they were excellent and we had nothing at all to worry about. We would definitely recommend them for any functions or events. The song they learned for us was excellent and much better than we had thought it would be, they did it complete justice and was all we could have wanted - we loved it and thought that The Talent was the best wedding band we have ever seen. "They were great. Thanks again"
Janis and Mark - Wedding Band (April 2014)
Hi we would like to say a BIG thank you to 'The Talent' who played at our wedding evening celebrations on Friday 5th March at Layer Marney Tower. They were excellent and a great end to an already perfect day. The Talent are without a doubt the only wedding band to choose for a wedding or party and we will have no hesitation in recommending them to all of our friends and family. Sally-Ann & Chris - Wedding Band (Jul 2013)
Hi Baggy Just a quick message to thank you and the guys for a fantastic evenings entertainment for mine and Sarah's wedding at Parklands. You really created a fantastic atmosphere throughout the evening and kept everybody up and dancing right to the very end. I reckon you could have played 'Sex on Fire' 20 times and still people wouldn't have minded!! And it was great that you got to play with Will Martin for a few songs. Neither Sarah or I had a clue what my brother had planned, but I understand that between yourselves, my brother Glenn and James at Parklands, you hadit sorted. It really was quality! Thanks again guys, and should we ever need entertainment again or feel the need to recommend anyone to friends and family, then we would have no hesitation in naming you guys top of out list. Thanks again, and all the best for the future". Paul and Sarah Wallis - Wedding Band (July 2013)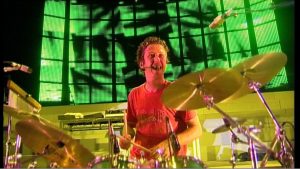 "Hi Barrie Happy New Year. I just wanted to thank you and more importantly The Talent for playing at our wedding on 5th December. The guys were great, our guests raved about how good they were and they even kept the fireworks a secret! Seriously, it made all the difference (so much better than a cheesy disco). We were absolutely thrilled. I've been to many weddings for my friends over the years and I'm proud to say that The Talent have set a very very high standard, quite simply the best wedding band we have seen. Thanks to everyone and for all your help with the logistics".
Claire, Maldon, Essex - Wedding Band (March 2013)
Hi Barrie, We have now just returned from our honeymoon in Vegas and thought we'd send you a little momento from our wedding day. Both myself & Gemma would like to personally thank you and the wedding band for your performance at our wedding reception. All the guests, family and staff commented on how good you all were. The Talent are an amazing live band with everything and more. Hope you enjoyed the hog roast, sweet shop (lol) and drinks and we hope to get along to seeing you at one of your next gigs. Thank you also for backing our friend Michelle (X Factor) for the first dance, it was so special to have her perform our first dance and we couldn't of done it without you. All the best to you all and I will be forwarding your number and website to all who attended as they all wish to see you again so a very high recommendation from us. Mike & Gem - Wedding Band (February 2013)
Hi Barrie. I just wanted to pass on our heartfelt thanks to the Talent for their performance at our wedding on Monday 26th October. The band were AMAZING. Everyone commented afterwards on how professional and entertaining they were. Our day was perfect in every way, there was NOTHING we would have changed – so please do pass on our thanks and let me know if you would like me to write a review for you guys. We went to see bands from all over the place in the hope of finding the perfect live entertainment for our wedding day and The Talent were more than we could of hoped for. Simon and Emily - Wedding Band (December 2012)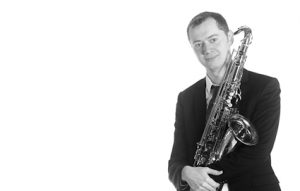 Hello Barrie, Just wanted to say a huge thank you for performing at our wedding (02.09.10). You rocked. Everyone has complimented you and several asked for your bands details. The Talent wedding band really made the evening reception. I hope you got enough to eat/drink too. I've just about got over the slow dance to robbie williams (haha) but there are some amazing photos from that particular part. My youngest cousin, who is now your biggest fan, definitely had a good time, I hope he hasn't been stalking you or anything wierd like that ... but he will at the very least never forget our wedding. Anther memorable part that was ultimately your responsibilty was the brides father swinging his jacket off to sex on fire! Classic! We cannot thank you enough for such a great set! One resounding statement from the night was how the drummer was singing and drumming and both so well at once. Perhaps you should be called the multi-Talent-ed. Anyway Sinead and I are so so grateful for your contribution to our day. Nice one.
Lewis and Sinead Carey - Wedding Band (December 2012)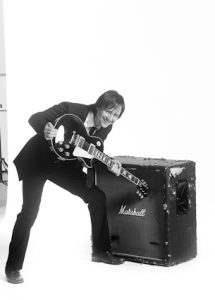 Dear All at The Talent Events, Thank you very much for the excellent party band you provided on our wedding day. The Talent were such nice guys and the music played was perfect. This helped end a wonderful day and we wouldn't hesitate to recommend you to friends and colleagues in the future. We searched all over Essex, Suffolk & Hertfordshire for the perfect wedding band and The Talent was exactly what we needed. i cannot thank you enough. Once again, thank you Best Wishes.
Simon and Candace Boulton - Wedding Band (October 2012)
Dear Barrie, We just wanted to say thank you so much for the fantastic performance of The Talent at our wedding on 3rd September in Essex Everyone has been saying how fantastic they were, I just thought you would be really pleased with the feedback. It was an amazing day and the music made it perfect!! The dancefloor was never empty. I fell over on it quite a bit............i think that was my mean friends making me drink tequila....oh dear!! Apologies to the band for my drunkeness!! Thanks so much again. Georgie and Phil Broom - Wedding Band (September 2012)
Hi The Talent Party Band, I would just like to say a big thank you for your help and to the band as they were amazing. I have been asked for their name and details from several friends and family so I hope you get more business. Also I would like to say thanks to the harpist who was delightful and truly fantastic. Everyone turned up on time, was in great spirits, and totally enjoyed the day. All of our friends (even the ones who hired other wedding bands) said that The Talent was the best choice that they have ever made and they were the best wedding entertainment they had seen". "P.S. If you ever need a good reference we will always be happy to give you one, along with the band and harpist. Phil White - Wedding Band (September 2012)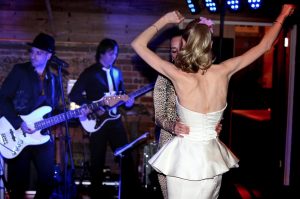 Hi Guys, Now we are back home and back to reality I wanted to send you a quick email to say thank you so much for providing an amazing evening of music at our wedding. Matt was happily indulged with the Muse track and I would like to thank you for your patience when it came to me throwing the boquet, all 3 times! I drank a little more than I intended, as I'm sure you realised as I introduced myself to you when unpacking your van, but this didn't stop me having an amazing night, helped hugely by The Talent. Your band topped our wedding off perfectly and we could not of asked for better wedding entertainment - just a brilliant live band. It was great to see everyone enjoying themselves on the dance floor and letting go of any inhibitions they had. We had many comments from friends and family about what a great live party band The Talent are and would like to pass on their thanks too. The support you provided in responding to my many questions along the way was also greatly appreciated as it helped take away planning stress. Thanks so much for helping make our day enjoyable and special",
Hanna and Matt Taylor - Wedding Band (August 2012)
Dear Barrie, Apologies it's taken so long to drop you a note, but my husband and I would just like to say a massive thank you to The Talent and for making our Big Day so magical. We had an amazing time, and you all did a fantastic job of getting the crowd going on the dance floor later on in the evening. I simply adored your choice of last song (Hey Jude). It's one of my favourite tunes of all time - I was delighted that you played it and it was a great send off to a fantastic nite. We looked high & low for great live music and entertainment for our wedding and The Talent were the solution. They quite simply rocked and made our wedding day very very special. Please pass our thanks onto all the band members and wishing you all the very best for the future". The best Wedding Band we haver seen Andrea & Phil James - Wedding Band (August 2012)
Hi Barrie, We would just like to say a huge THANK YOU to you all for a fantastic evenings live music, far better than any disco!!! Just what we asked for, Fun & funky with no Abba. The Talent were superb, we had a great night and our guests thoroughly enjoyed themselves commenting on how good the band were. Lots of dancing from young and old, some we were not too sure if they should have but at least they enjoyed themselves. Thank you also for accompanying us for our first dance, we loved every minute of it even though we forgot the moves :o) We would recommend The Talent wedding band to anyone. The Manager of the Hotel was impressed with the guys and has requested that we forward on details of website & email to him should they have need of or to recommend a live band. Robert & Racheal Harbord - Wedding Band (June 2012)
Hi Baggy, James and I wanted to thank you and the rest of the wedding band so very much for your patience on our wedding day.. When we finally got you started we were not disappointed. Our first dance 'You and Me' which you performed for us was great and I look forward to seeing and listening to you guys again when we see the video. Everyone loved the music and certainly lots of our friends commented on how great you were and how everyone was up and dancing from start to finish. It made our night and we thank you very much for your professionalism through out. Jane and James Winkley - Wedding Band (June 2012)