Performing at Over 150 Weddings Per Year
Playing as a live band for weddings at over a thousand wedding performances and counting, The Talent is well equipped to deal with any and all requirements you may have for your special day. If you wish for a specific musical theme to be paired with your evening's entertainment, don't worry, as The Talent have you covered. Our 500 song repertoire consists of rock & roll and jazz and swing genres, in addition to covers of the latest UK and international hits. We guarantee that we can perform plenty that's to your liking, giving the whole wedding party something to enjoy and reminisce about when looking back.
If you are in search of a wedding band for hire in London, or anywhere else within the U.K, choose The Talent today. Lose yourself to our lead singer's powerful vocals, which are accompanied by an ensemble of amazing backing vocalists and instrumentalists on set. Our bass musicians make sure you feel the music emanating through you and your guests, both with our elating and intoxicating dance playlists, as well as our romantic slow dance tracks.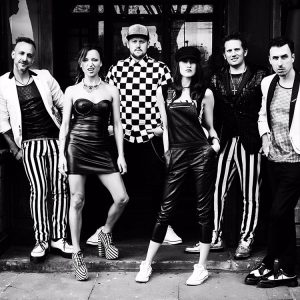 '… great performances and music that kept our guests on the dance floor; we couldn't have asked for more.'
'They were totally amazing, we could not have wished for more.'
'Every time we talk about the wedding, we always mention how great your performance was. It was simply perfect. We truly, could not have imagined it any better.'
Have a listen to some of our audio tracks, as well as a look at our gallery of past work for large corporations, wedding events, royalty and much more, and you'll soon see why we're the leading UK wedding music band.
Hire The Talent as Your Wedding Music Band Today
The Talent is your number one choice for hiring as a wedding music band in the U.K. Whether you are in London, Manchester, Birmingham or any other city across the country, we look forward to playing for you and making a perfect evening to complement your perfect day. Enquire about hiring The Talent as your wedding music band in the U.K today by phone on 07950 729 708, or by sending an email to us.