Choosing a song for your first dance is often difficult. Unless you already have a song that you both associate with each other, it's likely that you'll spend months listening to playlist after playlist on YouTube, attempting to find the perfect song.
For some, they just want something that is romantic. Other people have much stricter requirements! However, there always seems to be a list of songs that pop up time after time.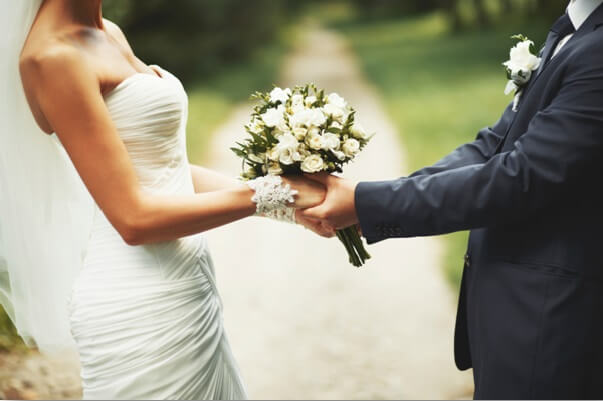 If you or someone you know got married this year, then you're guaranteed to have heard these songs at least once. These romantic tunes have been extremely popular at weddings this year, coming top of the list for those choosing a song to perform their first dance to.
How many have you heard?
Thinking Out Loud by Ed Sheeran  
This Ed Sheeran song has definitely been popular at weddings throughout 2015. Considered as being one of the most romantic songs of the past 10 years, Thinking Out Loud is a song that we predict will continue to be the number one choice for first dance songs for many years to come.
The lyrics describe a love that lasts a lifetime – is there anything more perfect to have at your wedding?
Latch by Sam Smith (Acoustic)
Let's be honest, there is a whole list of Sam Smith songs that would be an amazing choice for weddings. However, Latch is the song that has been popping up at weddings frequently at weddings this year.
The song is about a man who has found the person that he loves, so he is promising to never let them go. It's pretty romantic so we can see why it's become a first dance favourite.
Love Me Like You Do by Ellie Goulding
Since debuting as the theme tune to the first 50 Shades of Grey movie, this song by Ellie Goulding has become the go to song for romantic first dance tunes. It has powerful vocals that give us goosebumps - what more could you want?
Keep checking back for part 2 – we have a lot more songs for you to see!
Have you spent ages searching for the best party bands in London to hire for your wedding? Don't settle for second best – contact us here at The Talent. We are a professional party, function and wedding band that can be hired around the globe.
Our line-up can be adapted to meet the individual needs of our clients, allowing them to choose who and what they need. For more information, please just give us a call on 0845 094 1162 and a member of our team will be happy to help.