No matter how well prepared you are, things can always go wrong. There is no greater example of this than with live performances. When you're performing, there is one key difference between things going wrong in rehearsal and when it happens live in front of an audience:
Carrying on.
In a rehearsal, you can stop and fix the mistake, take it from the top and perform flawlessly, as if the mistake never happened. In a live performance, however, this luxury does not exist: mistakes are seen (or heard), they are acknowledged and they have to be worked around. The show must go on.
No moment was this more true than during The Talent's New Year's Eve performance at the Emirates Palace. We were in full swing, playing to a lively crowd of guests when the unthinkable happened. Our keyboard player, Jamie Brooks, had the keyboard slip out from under him and crash down onto the stage, during the middle of a song.
You can watch that heart stopping moment here:
As you can see, the keyboard appeared to have a mind of its own, and it just keeled over. Fortunately, as professional performers, we are always prepared for incidents like this. Instrument and tech malfunctions are just something you can't always prevent, and when the worst happens you just need to carry on. Like a true performer, Jamie carried on playing knelt down on the floor in front of his fallen keyboard. We needed our keyboard player, and he wasn't going to let an equipment malfunction get in the way of finishing our show for the audience.
Powering Through
Whatever the show, whether a band, a solo act or a theatrical play, all performers will have to deal with the unexpected at some point.
Back in 2005, comedian Julian Clary slipped down a flight of stairs during a matinee performance of the pantomime Cinderella, chipping a bone in his right foot. Despite the pain, he graciously limped through the rest of the performance before being taken to hospital. Clary even refused to let his injury prevent him from performing the entire show again later that night in a wheelchair, stating that he had never missed a show in his life.
In 2015, Foo Fighters frontman Dave Grohl plunged down from the stage early on during a performance and injured his leg. Grohl was whisked away backstage for treatment whilst the band carried on, but he soon returned to the stage in a bandaged-up leg to carry on performing.
Just on the cusp of her career taking off, in 2008 Lady Gaga dealt expertly with her soundboard cutting out suddenly in the middle of a song. She carried on singing acapella and finished the entire number with no backing music.
Finally, who could forget the (admittedly fictional) moment during the film Mean Girls, where Lindsey Lohan's character and the rest of the Plastics are performing a dance number and the stereo playing the music gets kicked off the stage and breaks. To break the awkward silence and stilted moment, Lindsey Lohan's character begins to sing the song, eventually prompting the other girls and the audience to join in, and they finish their dance in spectacular style.
What all of these performers have in common is their resilience, refusing to let a setback prevent them from finishing a performance. At our New Year's Eve show we didn't want to let a technical issue stop us from putting on a fantastic performance for all of the guests. We powered through and delivered on our promise of an incredible show to welcome in the New Year in style.
During a live show, things can, and will, go wrong. But when they do, you just need to carry on and put your best foot forward; the audience demand a show and you are there to deliver.
Afterall, the show must go on.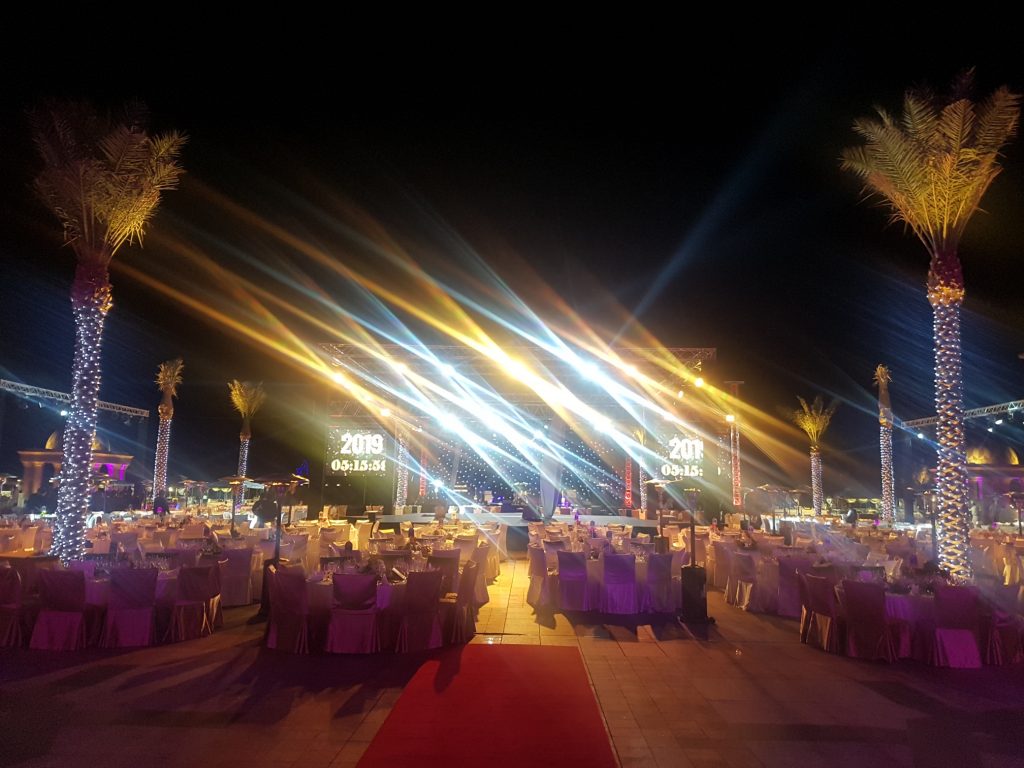 The Talent are a multifunctional band available for party band hire in London. Get in touch today to find out about what we can offer your next big event, including the resilience of a group of performers willing to always carry on.